MEET SUNLIGHTEN INFRARED SAUNAS
Your Wellness Oasis Awaits
VIEW SAUNAS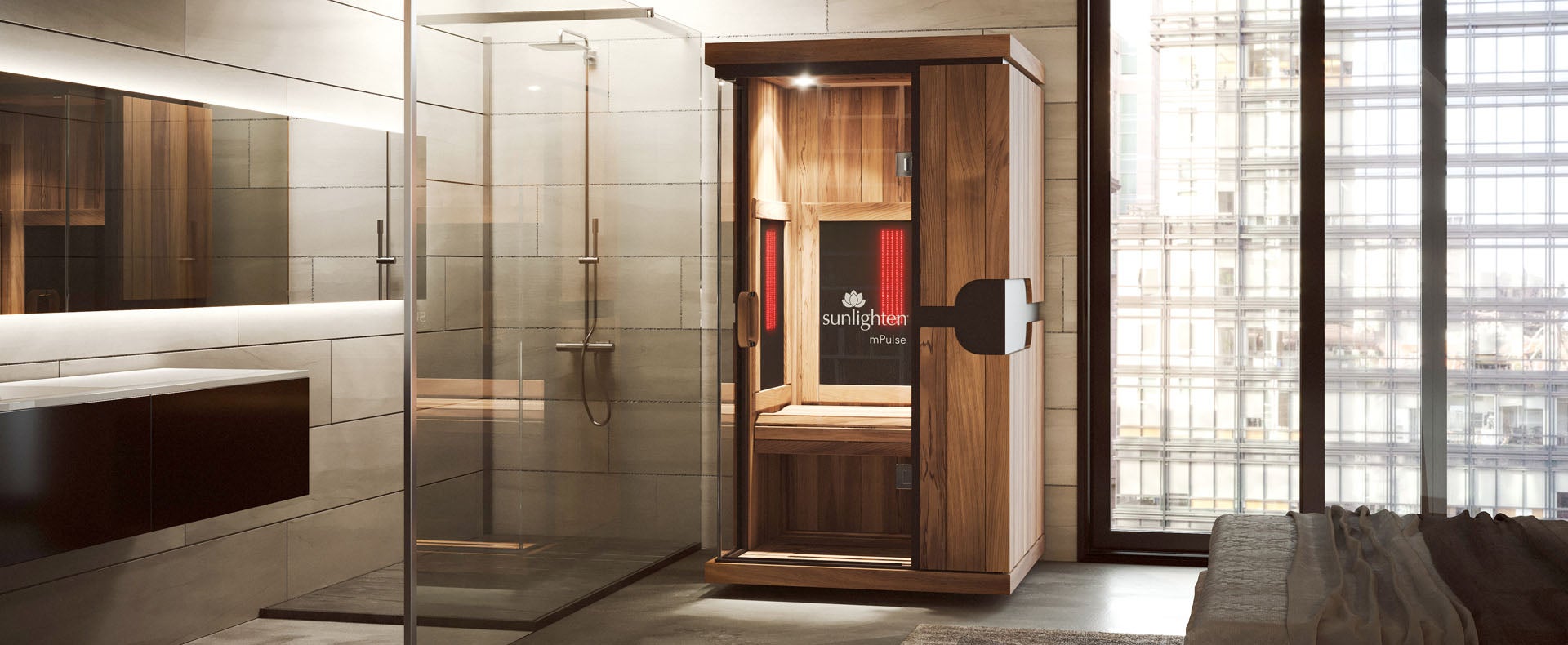 The mPulse Smart Sauna
INFRARED SAUNAS INTEGRATED WITH RED LIGHT
Unlike any other sauna, mPulse Smart Saunas make optimizing your health, home, and lifestyle easier and smarter. Our technology manages the sauna, your schedule, and your self-care. mPulse's pre-set programs give you the optimal dosages of far, mid, and near infrared light energy, and now also red light therapy, in the quiet, comfortable peace of this wellness sanctuary. Select specific health programs or customize your own, and connect the sauna to your routine and lifestyle.
Ryan Sutter's Story
An active athlete and firefighter, Ryan Sutter, enjoyed a happy life with wife, Trista, television's first beloved "Bachelorette," until a debilitating mysterious illness created a scary decline in his health. Listen to Ryan's discovery that making fundamental lifestyle shifts in nutrition and mindfulness, and the inclusion of an infrared sauna, helped create a foundation to feel better and get back to living fully.

Dwell in Superior Quality
We go to the ends of the earth to find the best materials to build the finest furniture-quality saunas in the world. Each beautiful Sunlighten infrared sauna is crafted with premium, hand-selected wood using flawless construction and innovative technology, a level of detail unmatched in our industry.
Innovative Technology
Not all infrared is the same. Sunlighten's patented SoloCarbon heating technology delivers the highest quality and quantity infrared energy for clinically-proven effective health benefits.
Which sauna is right for me?
Choosing a sauna to add to your wellness routine means looking at your lifestyle and your health goals to find the sauna that will be the best fit. We'd love to help you do that! Whether it's relaxation you're craving or deep detoxification, Sunlighten infrared saunas will help you achieve your wellness desires. From weight loss to muscle recovery and skin rejuvenation, our patented infrared technology will restore your body and your mind. Select your health benefit need(s) and how many people you want room for in your sauna to learn which options are best for you.
Be Inspired
3 min read
Programmed, Personal & Precise — Why everyone's talking about Sunlighten's new mPulse Smart Sauna
Sunlighten Red Light sauna